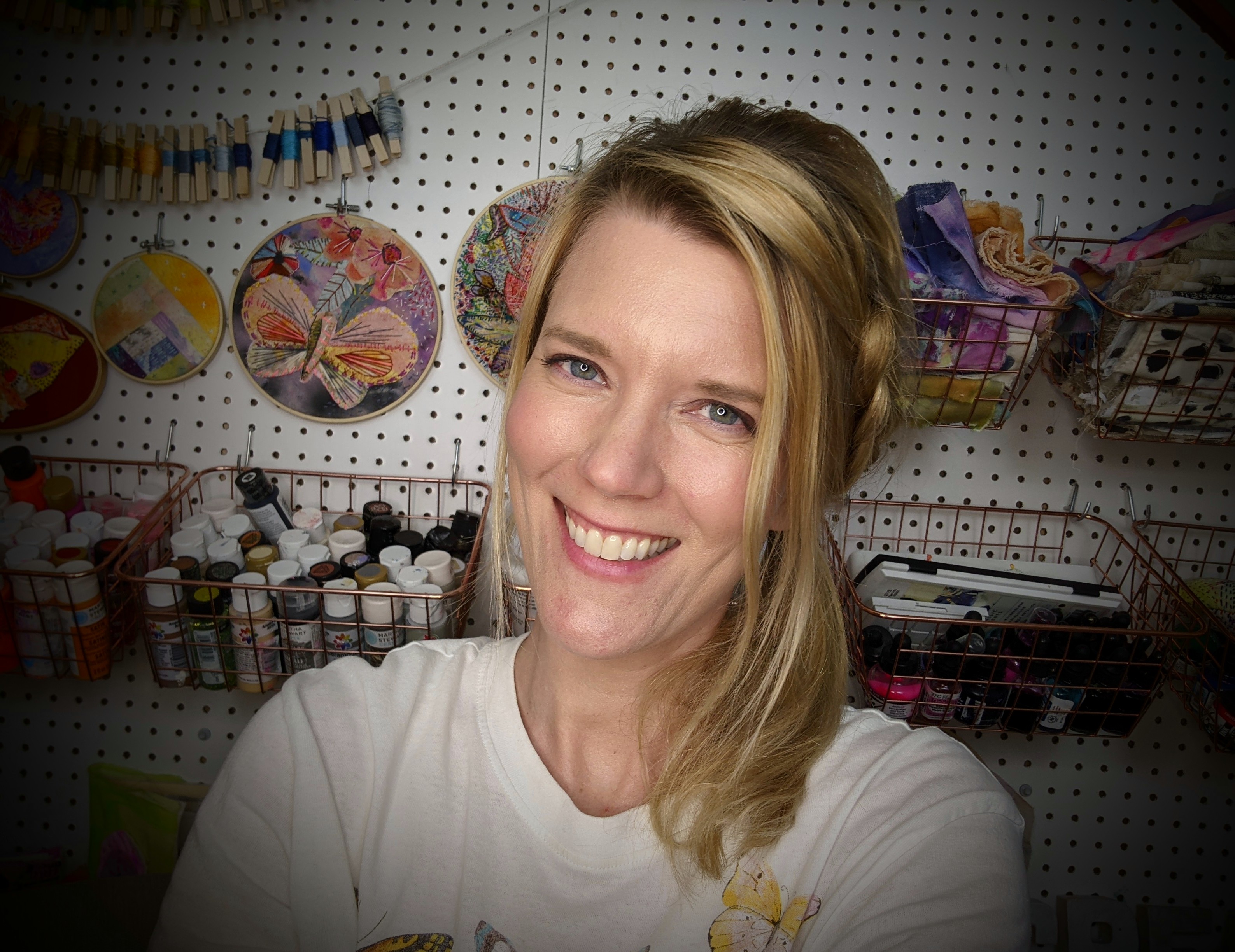 Sara Kay Hartmann is an artist and designer from central Illinois. She is a creativity addict, always looking for new ways to blend art and craft. As a very un-crafty child, she felt discouraged and sadly gave up on artistic or craft pursuits in favor of reading, writing, and playing sports. In her twenties, a sudden passion for knitting sprang up and eventually blossomed into a part time career in pattern design. Sara's background in creative arts grew out of designing needlecraft patterns for knitting and crochet, and she became an author in 2015 when her book, Poetic Crochet, was released--along with her first daughter. As a new mom changing diapers and reading countless picture books, Sara rediscovered her early love of illustration art, and it rekindled her abandoned childhood yearning to create art herself. She timidly began doodling and drawing, and promptly fell into mixed media happily painting, journaling, and making all sorts of things. Before long, she was blending art techniques with her roots in fiber and textile and hasn't looked back. You can follow the journey online, and say hi at the sites below!
On IG @Seesarastitch
Her Website
Sneak Peek Video of Class
Ever wanted to explore textiles and stitching? This is a 4+ Hour step by step class of doing just that.
What is Mixed Media Textile Collage Class All About?
In Mixed Media Textile Collage, you will learn fresh, exciting, and fun techniques for creating pictures and abstract designs in painted patchwork, then quilting and embroidering the collage layers together to create an amazing piece of art.
This class is perfect for anyone from art journalers to quilters looking to explore fresh techniques and put their own stamp on their projects. We will walk through the process of painting fabrics using watercolor and acrylics, exploring mark-making and mixed media techniques for applying paint, creating patterns, and preparing our fabrics for collage. You'll have a gorgeous stash of hand-painted and printed fabrics in no time.
Next, we'll explore the process of creating figural collage designing mushrooms and butterflies as we explore the textures and patterns that arose from the painting process. Then we'll go abstract by creating freestyle painted patchwork blocks. In this section we'll focus on intuitive layout and develop our artist's eye to create collage blocks that can become anything from quilt blocks to softcover fabric books.
Finally, we'll run wild with our slow-stitchery using simple hand quilting and embroidery techniques to stitch the collage together and layer on the color and texture with those sweet, slow stitches. 
Even if you've never threaded a needle or painted a line, Mixed Media Textile Collage is for you. Welcome to this intuitive approach to playing with fabric, paint, and stitch! 
Class Opens: September 11, 2021
How much content? Over 4 hours
How long will I have access to the content? Life Time Access


Ironing board or pad
Metal or plastic tray for painting
Press cloth
Fabric scissors and smaller sharp scissors for more detailed cuts
Glue sticks
100% cotton woven fabrics in light colors such as ivory or white (muslin, quilting cotton, flour sack dish towel, cheesecloth, upcycled plain cotton fabrics such as bedsheets)
100% cotton quilt batting OR polyester craft felt in light colors
Acrylic craft paints 
Acrylic Artist Inks 
Metallic paints 
Sparkle paints 
Liquid watercolor paints 
Fluid acrylic paints
Pan watercolors 
Embroidery threads in many colors (cotton embroidery floss, sewing threads, pearl cotton, lace- or fingering-weight knitting yarns, cotton crochet threads, crewel wool
Needles for hand-sewing that suit your chosen threads (embroidery needles sizes 1-5, crewel needles, chenille needles, quilting sharps, and craft needles)
Embroidery scissors
Thimbles
*A detail breakdown and specifics is available in the classroom under Supplies once class launches.